Yup, it's cold out. We know. Get over it. This is Upstate New York after all; our cities get more snowfall than any others in the United States. Cold and snow doesn't mean you have to be stuck inside! With the right gear, the right friends and the right knowledge, winter can be one of the best seasons of the year! It's uniquely beautiful, challenging, and nothing is quite as calm and peaceful as newly fallen snow deep in the woods.
A short while back we asked our readers what their favorite winter tips, tricks and gear were. What do folks swear by outside in the cold temps? What advice would they offer to ensure safety outdoors in the snow?
Well, y'all came through! And then some. Listed below is what you said. This certainly isn't an exhaustive list, and it's not a survival guide. But we think you'll enjoy hearing what your fellow outdoorsmen/women had to say; enjoy! Thanks to everyone who contributed; we invite you all to come join us outdoors during the next few months of winter!
HEADWEAR & CLOTHING

– I love Ibex outdoor clothing (wool). Their wool is mostly made in USA and Canada and is great for breathability, layering and resisting odors.
– I feel like people tend to overdress. If you keep your core warm the rest of you will be warm as you exert energy. When I dress, if I am warm inside than I know that I will be too hot outside running (I wear shorts until sub 30 degrees but keep head and hands protected). Arm sleeves are nice too. They are easy to slide down as I warm up (my arms take a long time to get comfortable in the cold).
– A Buff! Can be anything from a hat to a neck warmer to a ski mask in sub-zero weather. Totally versatile.
– Convertible mittens that you can either put over your fingers or fold back and tuck into a packet on the glove. A must have!!!
– Dress for the 2nd half of the run, not the first half. Helps to keep from over-dressing.
– If you're on a tight budget, the Champion C9 Collection carried by Target offers really rock solid gear at very reasonable prices.
– Best tip I ever got is to get dressed for 20 degrees warmer than the actual temp. Good rule-of-thumb. Works every time!
– A headband to cover my ears. Or any ear covers that you can easily flip up if you get too warm.
– I do the cheap thing – wear a pair of cheap pantyhose under my running pants to keep warm.
– I'm a big, big fan of Craft shirts. On most cold days I can get away with a Craft and then a little lighter or heavier jacket depending on the temps.
– My faves for winter runs: Mountain Hardware Momentum Gloves, Mountain Hardware Effusion soft shell jacket, Pearl Izumi Running Pants.
– I will sometimes run with a neck warmer that I can pull over my face for a few seconds once in a while- just to regain feeling in the lower half of my face.
– For gloves get one of those cheap three packs of stretchy gloves from Target. For all but the coldest days they are plenty warm, and because they're cheap if you drop one it isn't a big deal. I can't tell you how many single runner gloves I have at $20-40 for the pair?!?! Not any more.
– Simply put, Patagonia R1 Fleece Pullover is the single item I use through winter (spring and fall also). Warm, breathable, light durable (I've had mine for over 10 years!). Great base layer under a shell or worn by itself on less windy days. Expensive? Sure, but you'll get years of use out of it and you've got to love Patagonia's warranty, labor practices and philanthropic efforts. I can't speak highly enough this item. So versatile.
– I like the Amphipod Xinglet for road running. Especially in winter. Goes over everything and is super bright. It also has a pocket to hold phone, keys, ID, etc.
– Hand warmers!
– I thought that Columbia's Omni-Heat was all hype until I tried it. Now it's the base layer I absolutely swear by. Awesome stuff!
– I have a Nike Clima-FIT Convertible Jacket that I love. Temperatures can warm into upper 30's. I can take the sleeves off and pack them into the vest pockets.
– Guys, do yourselves a favor and get a Wind Brief. Nothing is quite so excrutiating as thawing out the family jewels.  Trust me.
HYDRATION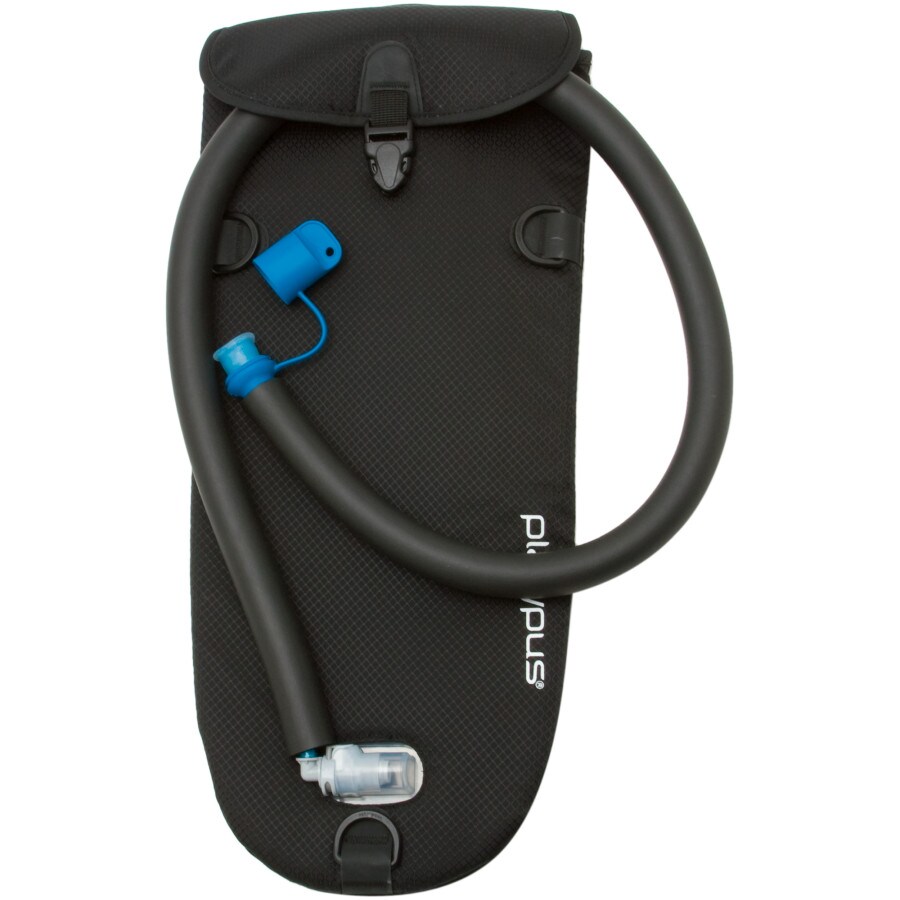 – It's not a necessity, but for hydration packs sometimes having an insulated tube (like the Platypus Insulator) helps – I tend to drink less often when it's cold, and I've seen water freeze in the tubes.
– Make sure your water bottles unscrew easily for the times when the spout freezes with your drink.
– The hose on one's Camelbaks, hydration packs, etc. can freeze easily in the cold temps. One great trick is to blow air back through the hose (until the water in the pack bubbles). This will clear out most of the water in the tube and prevent freezing. If the hose does freeze, tucking it down inside your jacket should thaw it out fairly quickly.
FOOTWEAR & TRACTION
– Love Darn Tough Socks and extra traction with studs (Goat Head Gear or Kold Kutter)!
– Waterproof running shoes (Goretex or OutDry), may be terrible the rest of the year, but they're essential in winter. I used the Montrail Mountain Masochist OutDry last year. Pretty good traction on snow even without added traction gear, and my feet were warm and dry on almost every run. Also, calf length, medium to light weight hiking socks, not the little shorty running socks. EMS makes a good, not too thick, not too thin, pair.
– I have hard-to-fit feet and give kudos to the Eastern Mountain Sports (EMS) crew for working with me on two different store visits until I had a perfect fitting hiker. Don't hike with poor fitting shoes!
– Always have a pair of Kahtoola Microspikes in your pack, as conditions change be prepared and stay upright. And a working headlamp with spare batteries.
– Micro Spikes for fresh or packed snow. Sheet metal screws for ice. I don't use waterproof shoes though, instead relying on my favorite socks, Drymax – feet never feel wet or cold. I just wear heavier ones in winter for the extra warmth.
– Wool socks are simply a must.
– Merino-Wool X-Country ski socks that are thin around the feet yet thick up the calf.
– Scree gaiters if it's sloppy.
– I love my YakTraxs for running. They easily work for whatever shoe you're using, easy to get off if the conditions change, and I've never slipped with them.
OTHER IMPORTANT STUFF

– Pelican i1015 iPhone case. Perfect for snowboarding, snowmobiling,etc.
– If you don't want your phone or stored back up batteries to die in the cold – throw a hand warmer in the place you store them. For me – phone in chest pocket – hand warmer tossed in = normal battery life in cold conditions.
– Wear sunscreen, seriously. (Learned that one the hard way.)
– Worried about frostbite? If your fingers are cold and hurt than you're doing ok. If they're numb? Than you've got a problem.
– Have a change of clothing for after events… A no-brainer, but you'd be surprised how many people don't think of this.
– Trail emergencies (i.e. – broken ankle) can have dire consequences in the winter. A lighter, a chunk of fire starter log, and an emergency 'space' blanket can become  a lifeline in an unanticipated backcountry emergency. Weighs next to nothing and doesn't take up much room in your pocket.
– Best way to use the facilities in the winter? Wait until you REALLY have to go and than make sure you're out of the wind behind a tree or brush.
– LIGHTS!! Most people have to run in the dark at this time of year! Invest in a good headlamp.
– Lightweight, telescoping backcountry poles are great for powdering winter trail running, climbing, snowshoeing and the like. Plus they're versatile and can be used in a pinch to rig a shelter, etc.
– Whiskey… with or without hot cider.
– Hide under the warm covers and go back to sleep.
---
Cover Image: Snowshoe and Bonfire by Mt Hood Territory. Flickr. Used by permission under Creative Commons License.